08.APR.2020
Notice of a change in our business hours due to declaration of a state of emergency
Ingram Co., Ltd.
8F, 2-8-12, Iwamoto-cho, Chiyoda-ku,
Tokyo 101-0032, JAPAN
Dear Sirs and Madams,
We are sincerely sorry for people who died and suffered from the new coronavirus infection, their families and related people.
We also appreciate people who are working hard to prevent infection.
Based on the declaration of a state of emergency associated with the new coronavirus infection announced by the Japanese government, we decided to shorten our business hours as follows to give priority on ensuring customer safety, social responsibility for preventing the spread of infection, and the safety of all staff members.
Business hours: 10:00~16:00 Weekday
Period of implementation: Until Japanese government lifts the state of emergency (depends on the situation)
We may inconvenience you regarding inquiries such as telephone calls and/or other communications with us. We ask for your understanding.
Sincerely yours,
Ben Kato
15.OCT.2014
Rilakkuma Campaigns & Events in USA Vol.1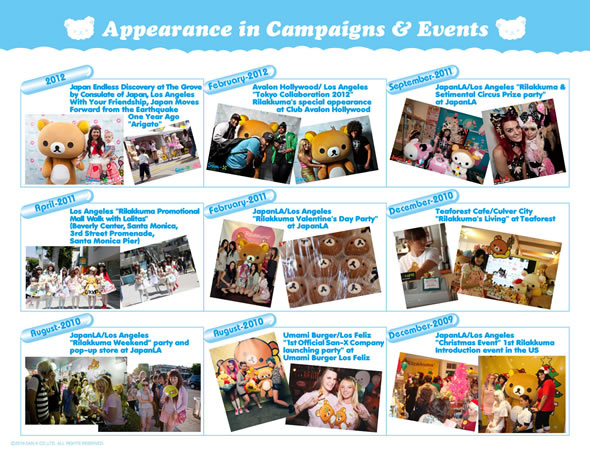 15.OCT.2014
Rilakkuma Campaigns & Events in USA Vol.2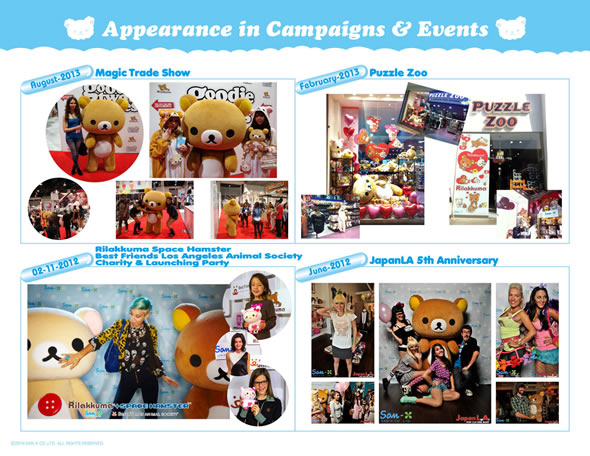 15.OCT.2014
Rilakkuma Campaigns & Events in USA Vol.3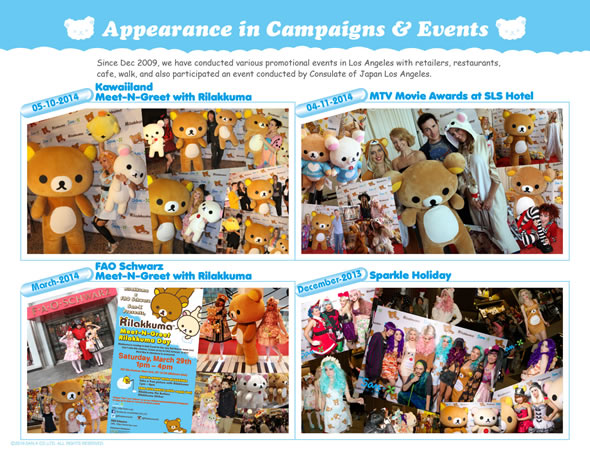 15.MAR.2011
Dear all friends
Due to the current disaster situation in Japan, many friends have contacted us.
Thank you very much for your kind words and compassion.
We are all ok, but still many people are in desperate needs.
We all ask your prayers to those people who need help.
Ingram Co., Ltd.
09.DEC.2009
San-X Rilakkuma Christmas Party
San-X is coming to Los Angeles (USA) for the Rilakkuma Christmas Party.
We will be celebrating the San-X's first trip and landing to the U.S., this Saturday,
7pm – 11pm at JapanLA. The event will be hosted by JapanLA.
During the event we will have a free photo section set to take photos with Rilakkuma and also pancakes, goody bags, prizes and more. Come join us and don't miss this great opportunity.
For more info please visit the following link, http://www.japanla.com/blog.php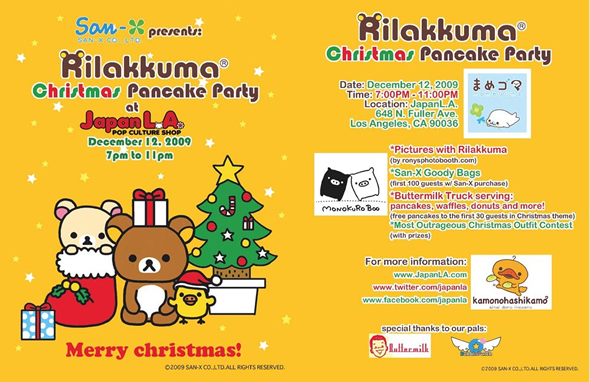 02.DEC.2009
Peace Project
Our annual Peace Project exhibition will take place during November 19th (Thur) – 23rd (Mon) at Daikanyama Hillside Forum. Please check out the details from the following webpage.
http://www.peace-project.net/

02.DEC.2009
We just launched our homepage in English.
We'll be updating news time to time so please visit us.